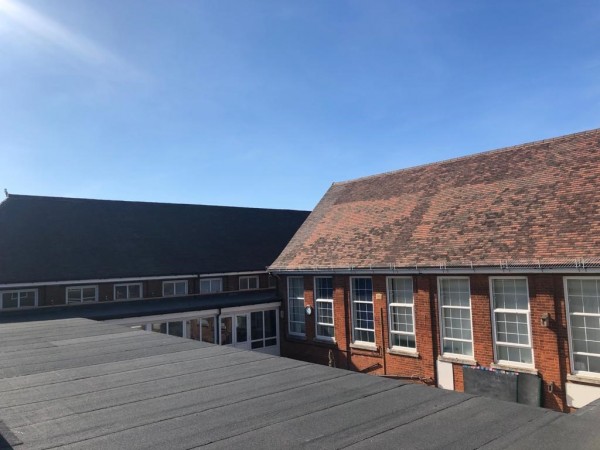 Apex roofing gave the Suffolk primary school a much needed a roof refresh. As an older building, there were issues with the roof caused by general wear and tear.
This 26 week roof replacement project was undertaken with minimal disruption to the pupils. Apex ensured that all work was in keeping with the existing building style.
What did the project involve?
The work required included replacing seven pitched roof areas. As well as replacing four areas of flat roofing.
The lead was replaced on all chimney stacks. One chimney stack was dismantled and rebuilt. Several chimney stacks were repointed.
Several of the flat roofs had fragile roof lights that needed to be protected, and some were also replaced.
The existing rainwater goods were replaced. Apex also coordinated the installation of new windows in the turret area.
Apex worked as a main contractor with its sister company Apex Scaffolding which provided all the scaffolding systems. The project manager and principal designer was Concertus.
The challenges
The scale of project required it to be undertaken using a phased approach. Phase one was the pitched roof areas and phase two was the flat roof.
The project was vast, with many challenges such as:
• restrictions on when certain work could be undertaken
• restrictions on when deliveries could be received
• access issues
• school exams taking place during the project period
The pitch of the roof was very steep which added to the access and issues. To overcome problems of access and ensure buildability, Apex designed a special cantilever-style scaffolding in order to enable the efficient removal and storage of tiles for the main roof.
Due to the age of the buildings there was a strong possibility of bat presence. Although no bats were found, Apex used ecologically-approved felt beneath the tiles on all pitched roofs. A bat friendly membrane designed to reduce dust and pollution, in case of future bat visitors!
Successful outcome
The project was delivered on time and on budget with minimal waste. The entire project was carried out using less than 15% new tiles. All materials were reused or recycled where possible.
Jackie Biswell from Apex Roofing said:
"This was a great job for us. It was fantastic for both Apex companies to work together on the project. We were delighted with its success. We reused as many materials as we could to ensure minimal waste. Recycling where we can and minimising waste is so important to us as a company."
Jason Walton, Principal Building Surveyor, Concertus Design and Property Consultants said:
"Apex roofing had successfully been awarded the construction contract through submitting an excellent tender submission which was scored on both price and quality. Throughout the entire project delivery, all members of the team have been a pleasure to work with. Apex successfully delivered the project whilst juggling a number of external factors on a live school site. Despite the number of obstacles faced, no task was too great to accommodate and Apex were happy to work around the day to day school activities to minimise any potential disruption to the teaching environment. The final works were completed to an excellent standard of quality. I look forward to working with Apex Roofing again in the near future."