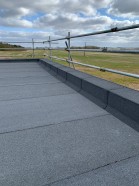 The project:
This retained fire station was in need of a roof replacement to ensure the integrity of the roof and safety and comfort of the fire crews working there.
Suffolk Fire and Rescue employed Concertus Design and Property Consultants to survey and specify a suitable product and tender the project on their framework, the works were awarded to Brock FMD Limited who managed the project.
Apex were awarded the contract to replace the failing roof using a Bauder Torch Flex System.
The challenges:
Replacing the roof of this fire station had its challenges, keeping clear the appliance bays and access routes to allow for free and easy access should the crew receive a shout was paramount and the site security was essential due to the buildings remote location.
The site was set-up in a way to ensure that the crew had free and unrestricted access to the entrance door. Roof access was provided externally, and a compound and gas cages kept materials safe.
The existing roof was stripped off this revealed a close boarded deck which needed repairing and a nailed layer required installing prior to the vapour barrier, insulation and underlay.
The roof was finished with a mineral surfaced felt in charcoal.
The existing rooflight was replaced with a Bauderdome rooflight to ensure that the station office had natural light creating a healthy environment for the fire crew.
Outcome:
The project was completed on time and within budget.
Jackie Biswell, owner of Apex Roofing, said:
"This was a great job for us, the fire service was really accommodating during the project. The crew there do such an amazing job. We did our upmost to keep out of their way and not to disrupt their important work while undertaking the roof replacement."
Lisa Mattin, director of Brock FMD Limited, said:
"Apex Roofing carried out an excellent job and provided a professional service, from promptly providing costs for a number of variations, which enabled robust cost control, to completing the works to a very high standard. Their ability, flexibility and willingness to work closely with the Fire Service to minimise disruption was greatly appreciated by all parties."